Ice hockey is a great sport to get kids into. There are many different benefits that ice hockey brings along with it. Some of these benefits include: learning how to work as a team, physical exercise, and taking part in a fun activity with friends.
This means that if you have never played ice hockey before and your child has expressed an interest in playing, you will have to get them started.
Do you want to know what are some tips for introducing kids to ice hockey? There are many benefits of introducing children to sports, but it is always important that the sport be age-appropriate and safe. Here are 10 tips for introducing kids to ice hockey.
10 Tips For Introducing Kids To Ice Hockey
Teach basics of hockey
Kids of any age enjoy learning the rules of a new sport. For example, when introducing your kids to ice hockey, teach them how to skate forwards and backward and how to stop on both skates and blades.
Explain that there is the equipment they need for this new game too. For example, helmets should be worn at all times during play, elbow pads can help absorb some of the impacts from falls, shin guards are good for preventing lower-body injuries such as cuts, bruises, and scrapes.
Explain that it's possible to pick up puck handling skills with practice quickly; without these basics mastered, they won't get far in the sport. You can tell them how to learn to skate and show some basic skating skills.
Purchase ice hockey sticks, pucks, and nets
Set up your child's very own practice station in the backyard! To teach them the basics of shooting, get a goal and some pucks. Teach them how to stickhandle while you're there by improving their hand-eye coordination. Create a positive learning environment around them to make it fun.
Please encourage your child, but don't push them too hard. If they're not getting the hang of it right away, suggest a different activity until their interest returns. For example, playing hockey is more fun when you enjoy yourself!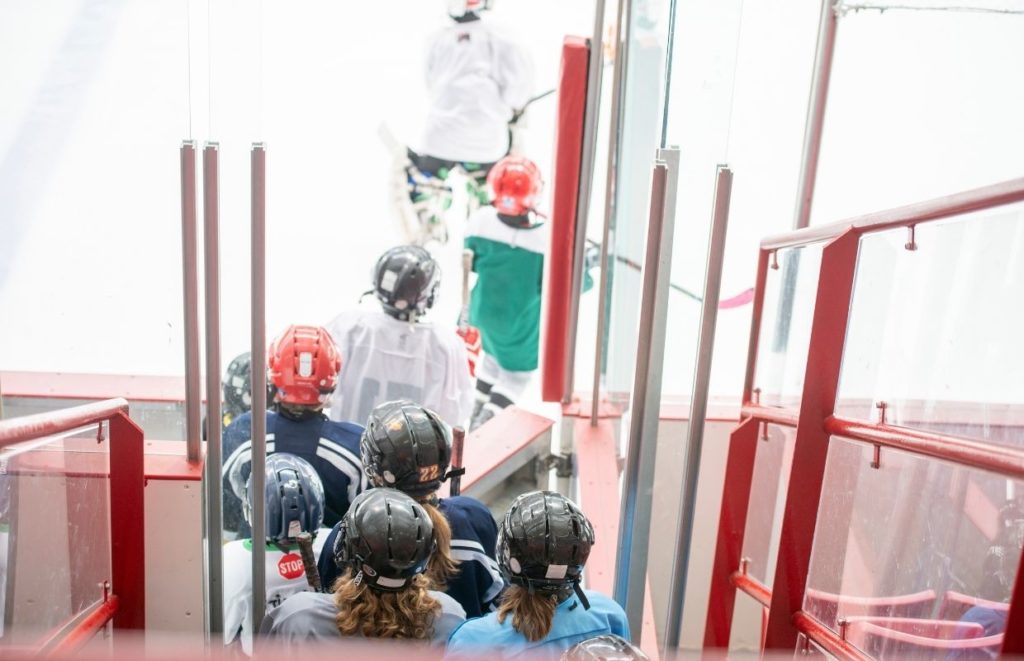 Introduce your child to organized ice hockey leagues
Part of learning how to play hockey is learning that some guidelines and rules must be followed. Introducing kids to an organized league will ensure that they're properly supervised. Playing with other hockey players will make it more joyful for kids.
Set up a meeting with a league manager so you can ask questions about how it all works. You'll want to show up for at least one of the practices before signing up – this way, you can observe what's expected from the parents as well. Find a great coach for your kid.
Team up with a friend or neighbor to make things easier for you and your child; then, they can come over every week for practice and games. If both kids are around the same age, they can even play hockey together on the same team! They'll make some lifelong friends along the way.
Practice skating skills at the rink
The best way to learn how to play hockey is (of course) to actually go out and do it! Practice in a rink where your child can get comfortable putting their skates on, walking around with them on, and then eventually pushing themselves away from the wall.
Rinks are also great places for picking up some new skills, like shooting or stickhandling. Bring your sturdy hockey stick along so that they can practice these basic moves while you watch over them.
Let them try practicing their newfound skills towards the end of each session; this will encourage them to improve their game more quickly than if they only knew how to skate around aimlessly all day long.
Take part in tournaments and games.
No matter how much you practice at home, if your child hasn't had a chance to play hockey with other hockey players, they won't know what the sport is really like. You can take part in tournaments and games for as long as your skill level permits.
This will give them feedback on where they are with their abilities and get them used to competitive situations. But, of course, your kid will need to level up their game with time.
Whether or not your child's team wins or loses isn't the most important thing. They'll win or lose along the way just by taking part in these events! When participating in games, encourage your kids to play safe; fighting isn't an acceptable option for playing hockey, no matter what age you are.
Get your child some good hockey clothing
According to USA Hockey, they're only required to wear a helmet and gloves/mittens on the ice. However, it's highly recommended that you purchase full uniforms for them. This will help you easily identify them when they fall or want your attention during play. It also helps other people watching know which player is yours!
Find a reliable place to purchase used helmets; many sellers will post helmets with signs attached showing them to be in good condition. If you're buying from an individual, check to see if they still have their receipt so that you can ask questions about when and how often it was used if needed.
Buy as much protective gear as you can afford
Your child will likely end up investing many hours into the sport of hockey, so it'll pay off to provide them with quality gear. In addition, the protective equipment they wear will help them stay safe and prevent serious injuries that may take a long time to recover from.
If you wish for your child to play in games or tournaments, they're going to need a helmet with face protection as well. Again, this is mandatory; their safety is not something to be taken lightly.
Make sure their skates fit properly
The proper fit of hockey skates will make all the difference in how well your child plays. This is true even if they're only wearing them to practice at home; you don't want them falling when skating around because their skate's too loose! They'll find it hard to move around with ease if this happens!
A good way to tell if your child's skates fit correctly is by checking the length of their skate blade (not including the foot). The heel shouldn't touch the skate, but it should stick out a little bit. It's better to have one that sticks out too far than one that doesn't stick out enough; this will keep you from getting injured while they learn to balance themselves mid-skate.
Go slowly when teaching kids to skate
Don't rush things if you're trying to teach your child how to ice skate. Instead, give them enough time to learn the proper techniques for balancing themselves on their skates and moving around with ease without falling over or getting hurt.
Take it slow at the starting point, and let them learn one step at a time! The more practice they have, the smoother their skating will become before you know it. Ensure that you spend more time practicing moves like stops than actually having fun with this "toy" of yours!
If your child falls while skating around, help them up as soon as possible; don't let them stay down there crying! Instead, explain to them calmly why they fell and remind them to keep their head upon the ice.
Don't be afraid of making mistakes
If you're a beginner, expect to fall now and then! This helps your child get accustomed to safer ways of falling that don't result in injured wrists or knees. However, if they do end up injuring themselves anyway, make sure they understand why it happened so that they can avoid doing the same thing again in the future.
Teach kids to learn from their mistakes and not to beat themselves up over them. Help your child develop endurance for playing hockey. Running and doing push-ups will help build strong leg muscles important for standing on skates and getting back up on one's feet after falling. Just make sure to do it in a fun environment.
This helps them stay focused instead of being in pain once they've fallen to the ground!
Don't be afraid to show off how excited you are about their progress and being a hockey player; it'll keep them motivated and more enthused with the activity overall!
Frequently Asked Questions
How do I get my kid into hockey?
The simplest answer to this question is by having them watch a game for the first time. They'll be eager to try out the sport if they've watched it being played beforehand!
At what age should my child start hockey?
This is completely dependent on each child's physical ability to handle playing in the sport. Remember, they'll need protection for their head and body as well! Let them try it out at a younger age (at minor hockey club) if you think they can use this opportunity. You can even read our article on: At what age should kids start hockey?
How do you teach a kid to ice skate?
Again, this depends on the child's overall ability to balance themselves while performing moves on skates. If you're determined to have them learn how to skate one way or another, consult a professional for advice! They might need more help than others before they can easily move around and play the sport at their own levels of comfort.
How do you teach a child to hold a hockey stick?
First, you'll need to help them find the best-fitting hockey stick for their size and abilities. Then, once they've found one that's comfortable for them, make sure they're holding it with both hands very loosely! Next, instruct them on how to move the stick properly while following your directions on trying out different stances (like a skating position). This can be easy to learn if you show them the positions that they should imitate!
Conclusion
All in all, introducing a child to hockey is a great way for them to spend time getting exercise and learning important skills that can help them out. Think of it as a fun activity where they'll make friends with other kids who are enthusiastic about playing this sport!
Tell us your experience of introducing your kids to hockey. What worked for you and what didn't? How did they respond to this new activity? Leave a comment beneath this article with your answers.